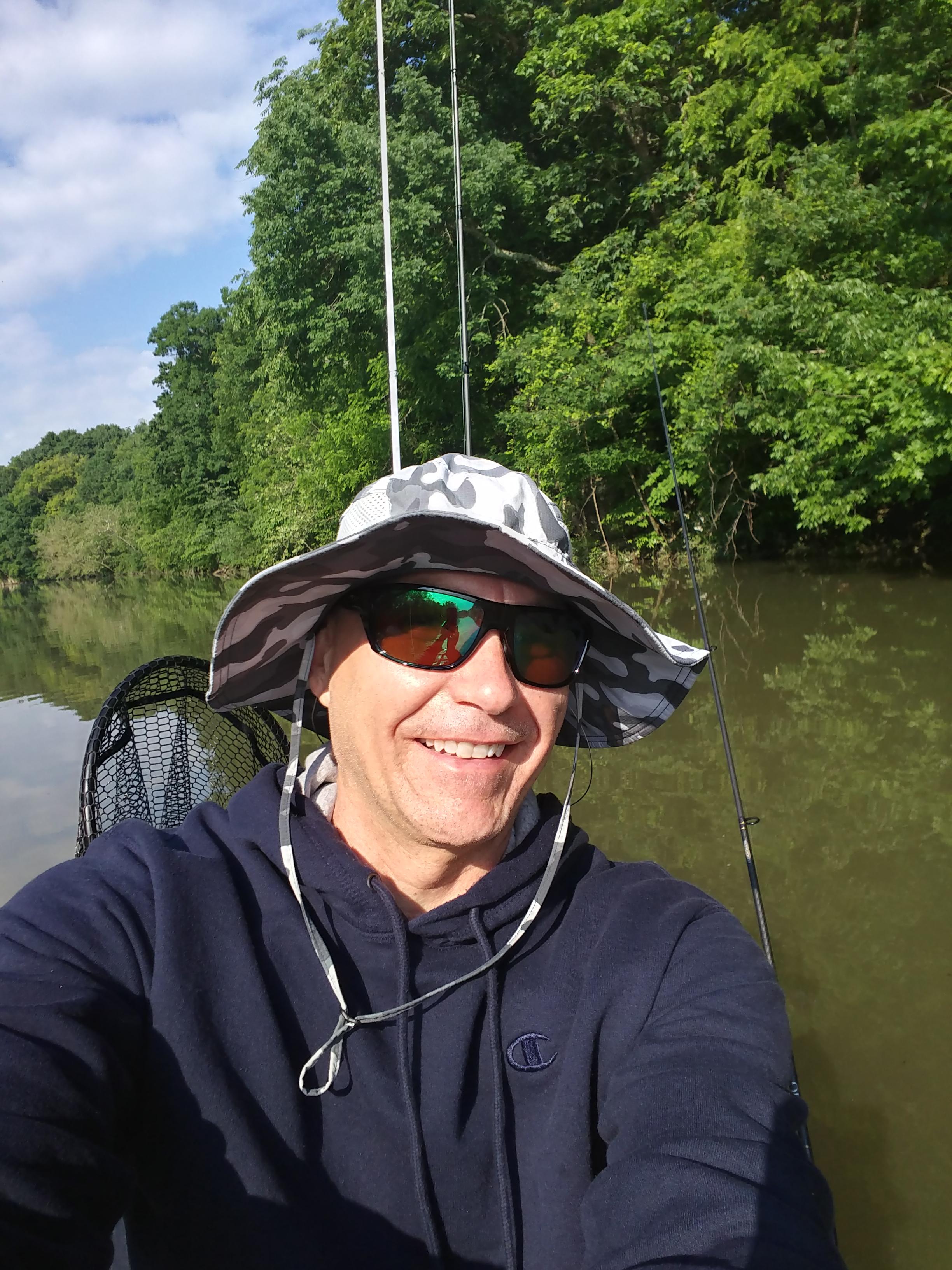 Posts

14

Joined

Last visited

Days Won

1
Recent Profile Visitors
The recent visitors block is disabled and is not being shown to other users.
Bassin4fun's Achievements

Bleeding Shiner (1/89)
59
Reputation
I caught this monster yesterday afternoon kayak fishing. Felt like I was reeling in the whole weed bed...lol. He tried to get me hung up in some. I was able to pull him through. I thought I was hung until he started pulling back. Almost 5lbs. I caught 9 bass from 1030am until almost 3pm. They were all up towards dam around structure. I caught most of them feeding on shad...I would just cast over where the activity was and was getting bit.

There were a ton of shad down at Aldrich ramp yesterday. In fact, that whole stretch from the bridge up several hundred yards from shoreline to shoreline was full of shad. I thought is was current causing the "ripples"....nope. Shad.

I was out there at 5:45am this morning. Couldnt get a topwater bite going. Tried throwing a spinnerbait and wacky rigged worm. I ended up catching 6 bass and lost one. Pics are of the best 5. Missed a few strikes too. Weeds were key once again. That seems to be the trend. I tried the bank on the East side but didnt catch anything there...had a strike at my spinnerbait though when fishing a laydown along the bank. Water temp was in the 70's this morning. The rain really dropped the temp. The deprh was up some too.

I need to make a longer tether for my cell phone case. I am not getting a good pic of fish on measuring board. In tournament situations, those pics wont count. Once I get that down, I am going to start in sone kayak tournaments.

I was out late morning on Sunday and again that evening before it started storming again. I caught a total of 9 largemouth bass and one rock bass. 7 of them were from 10:30am until 2:30pm. The others were caught from about 6:15-7pm. I am switching back and forth between a wacky-rigged worm and a football jig. If I miss a strike, I switch up and toss back in there. It has worked several times to get the bite. I basically work the grass/weed lines and any wood I see. This evening, I did the same thing and caught 5 bass. One was over 2lbs and one was over 3lbs. I am consistently catching bass in the 1.0-2.5lb range. I am fishing from my yak. I was out on Finley River after launching from the park there in Ozark on Saturday but was skunked.

I just signed up on MoYak, KFB, and Tourneyx to start fishing in kayak tourneys. May eventually enter one in my bass boat. Thought I would start with some yak events.

That sounds like a great day fishing! If I catch one or more per hour, I count that as a successful outing. 😁

I hit the water in my yak just before 6am. It was cooler out this morning. Perfect weather. I tried throwing a blue and silver Wiggle Wart in deeper water that was parralel to some weed lines but no luck. I ended up throwing a jig and a wacky-rigged worm all morning. I did also try tbe topwater but no bites. Same pattern worked again that had been working the other days. Pumpkin green straight worm with no weight tossed in and along the weed lines in shallow water. Largemouth bass would hit it. All of the bites were pretty subtle. I was using 8-10lb fluro line on a medium action spinning rod and reel. I am guessing a ned rig or flipping some other plastic creature bait would also work. It is nice to be able to do some bass fishing so close to home. I think I will hit Fellows tonight....or maybe Table Rock in the big boat. I was paddling across the lake and saw a baby turtle swimming around at the surfaces. I just scooped him up with my hand for a couple of quick pics.

I was kayak fishing from 6pm til about 8pm last night and then from 6am until about 9:30am this morning at Springfield Lake. There was a wind both times...I believe a winf out of the south last night and from southeast this morning. It was nice because it was hot! This morning was pretty nice though. I fished the same patterns both times I was out. I plunked a wacky rigged senko style worm along the weed lines. That produced two last night and three this morning. I hooked a 2.2lber this morning and had to use my net for the first time in the yak. I used a drift sock and my anchor trolley to hold boat position while it slowed by drift rate. It worked really well. I did try topwater and a Wiggle Wart too but did not get any strikes. But, the worm worked well. That seems to be a winning pattern right now. They are shallow...I have caught several in inches of water near the bank. I am loving fishing in the yak. I have been 8 times out in it already and only once in my bass boat. I love being able to drive 15-30 minutes and be on the water. Itbis challenging too but I am getting my rhythm.

I was out on Fellows Lake yesterday evening from 6:30pm until 8:30pm. I was kayak fishing. I threw a wacky rigged worm and a KVD Sexy Dawg Jr. The worm produced for me and I did not get so much as a slap on tge topwater. Water temps were in the 84-86F range. The water was very clear with greater than 6ft visibility. I recently rigged a Garmin Striker Vivid 4cv to my kayak and will need to create some waypoints for structure. I passed over a good spot not far from the boat ramp/marina that has some structure in deeper water. There were some fish around it too. I ended up catching two large mouth bass and hung one but lost him. All three were on the wacky rigged worm. They were located at the edge of the bushes out to about 8ft of water. This was my first time out on Fellows and I will be back. I had my first bass on after about 5 minutes of fishing! The larger fish I caught was 1.5-2lbs and put up a good fight on the lighter tackle. It also pulled the yak a bit! I cannot wait to see what getting a 5lber would do! 🤣

I was floored that you could finance a boat for 10-15 yrs. Everything is sold via how much are you looking to spend monthly. It's sick. I opted to buy a Tracker boat and paid it off in one year. No way I would drop $50k or more on a boat. That explains why a lot of used boats were darn nearly the cost of a brand new boats when I was looking to buy. The sellers likely owed that much on the loan.

Last night, I went kayak fishing on Springfield Lake. I was on the water by 6pm. The weather was perfect for fishing! I stayed in the area near the park boathouse and did not make it out to the more open water. I fished the grass and lily pads along the open channels using a jig, a ned rig, a spinnerbait, and a walking topwater bait. I did not get a strike until about 7pm...then, I got my first bite on the pause using my topwater bait. I ended up catching three largemouth bass along the grass lines using this bait and technique. I hung a larger largemouth that probanly woukd have been about 2lbs but he threw the lure after jumping. My split ring must have been coming off because that and the hook were gone when I reeled it back in!! This was only my third time out kayak fishing. I purchased a Perception Outlaw 11.5. I love it so far. It is a bit of a beast...but it is extremely stable and very well-designed. I should get my Garmin Striker Vivid 4CV installed soon as well as my anchor trolley system. I already have a lot of the needed (or wanted) accessories. Next time, I will measure or weigh the fish. These were all about or close to one pound and probably 10-13 inches in length or so.

I was on the water by 6am and by 6:15am, I had my first keeper fish. I was throwing a topwater again this morning. The water was up a lot. They must have been running a BUNCH though because by the time I came off the water at noon, the water was back down to where it had been last week. At least a foot change in 6hrs! I caught a keeper sized smallmouth off a main lake point. It weighed nearly 4lbs. I also caught a nice spotted bass that weighed in at 2.4lbs but looked short. I lost one that was probably another 2lber or so on that point. I continued to fish the topwater walking bait but also was throwing a squarebill and a spinnerbait. I did get a bite on the squarebill but lost it. I must not have had him hooked well. I caught a lil spot on the topwater that wasnt much bigger than my bait. I didnt have much luck from about 10am til noon. Tomorrow, I plan on fishing for crappie using minnows and jigs. Will be focusing on standing timber in 15-25 FOW back in a main lake arm.

I am new to the boards but have been following for awhile. Lots of good info and stories/pics. I have only had a boat for a year now and have been putting in time on the water...mostly at Table Rock. I started out Sunday morning fishing main lake points on tge lower end. I have some fave spots that almost always produce for me. I tied on a KVD walking dawg bait, spinnerbait, ned rig, vision 110+1 jerkbait, and a squarebill to focus on for this trip. I was using my jerkbait when several bass started busting on the top chasing shad around me. So, I switchedbto my topwater bait. Bam! I caught a nice fat spotted bass. That was my first tine ever catching a bass that I had seen actively feeding on top and my first time catching one with a topwater walking bait. I was hooked! I worked that point for an hour or so. I could see bass on my graph but was struggling to get anything working. I moved to an arm off the main lake that has standing timber and where I have caught a mix of fish over the past two weeks. The water depth is about 15-30ft with a lot of standing timber in the area...some submerged and some visible. I again focused on the baits I had tied on. I again found some bass busting and threw the walking bait. I caught a short smallie and then a keeper largemouth in that area. I fished that area for a good 90 minutes or more. I was averaging a fish per hour with two keepers and a short and I also missed a strike and lost a small one I had on. I decided to head down to Long Creek area. I went back in an arm to the right of the bridge once you get back in there and I parralelled tge banks using my topwater lure to hit the shady areas. I caught one more short. I couldnt anything else working once that topwater bite was gone and decided to head in. I have a trip planned for Saturday morning and I am excited. We are going to target 5:30am on the water start time and fish until 11 or so. The fat spot was a female full of eggs and tge largemouth was a male. Both seemed ready to spawn. I think maybe some of the fish held off spawning due to the high water and cold fronts we got. Maybe over the next week or two the bite will be good. I need to figure out the Ned rig bite and setup. That seems to be the big winner from what I have read on here. Could also be where I am fishing...just not the right areas. I posted a pic of the water moccasin I saw over along the bank in Long Creek area. Firat time seeing one in the wild like that.