As Eric Prey and Pete Wenners have been alluding to on their videos the jig bite here is extremely strong.  Bass are just gorging on Crayfish.  Seems like a lake wide bite, it has been for me as in the past week I have been from point 1 on the White to point 15 on the James to  point 23 on the White.  It is going all over the lake.  Boat positioning is critical for this bite as it seems to be right at the thermocline.  With lake temps today at 83 degree these fish are holding in the 26' to 36' range and most are bottom hunting and not suspended.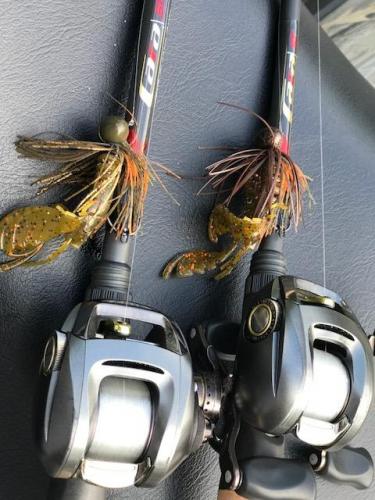 Big baits and heavy equipment are the ticket on deep jig fish.  Notice how that Nichole's craw is just flopped over it is extremely soft and swims like a complete alive thing.  I'm using Falcon MMC Signature Rods in Heavy Action and also Falcon Cara Amistad.  15lb. carbon line
Lots of power pole boats on the lake practicing for a late Oct. derby.  They are catching them, flat out hammering them.  From what I heard today its taking about 2 hrs. to put 14 to 17 pounds in the boats, with lots of LM and SM in the 4 lb. range.
These guys have not going out early, they are catching them all day long, sunshine or clouds it does not matter they are feeding up.
I have visited with Champ about this bite for years, it is a big bait bite, with lots of the pro's using 5 inch baits and 1 oz. jigs.  They are using big jigs and bigger trailers.
My absolute go to bait on this bite is the 3/4oz Pig Sticker Quick 5  with a Nichole's Texas Craw trailer, either in Copper or WMC.  Jig color is either GP Orange, Brown Orange or WMC.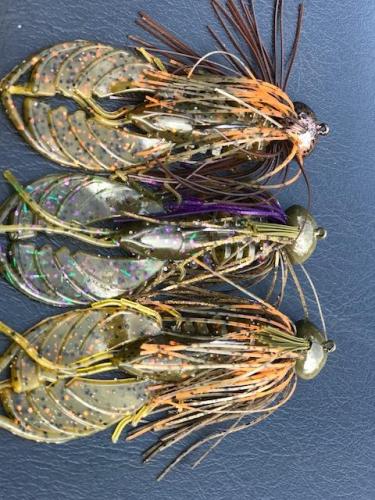 The Nichole's craw is a very large trailer suited for the 3/4 oz. jig and the colors are about as good as I have seen matching up with the Pig Sticker.
A lot of the pro's are throwing hard heads or Biffle Bugs in that 3/4 to 1oz size.
Most of these fish are coming on the flatter stuff holding right at the channel breaks, and dragging the edge or winding it with the hard head is money.
That's about the best information that I can give you.  Good Luck