Dam-Long Creek area with Mike
Hit the water out of Old 86 yesterday morning at 7:30 in the Geico Ranger with a really stiff South wind and some pretty good swells. Water was clear and 48 degree.   Plan for this morning was to crank and throw the stick bait on windy banks and then take a breather and do a little vertical stuff if we could find them.  Always good to see and fish with Mike.  The guy is always in a great mood and really reminds me of Beck which was also one of his best friends.  He loves to fish and simply loves what he does.  He is pretty good at it.😎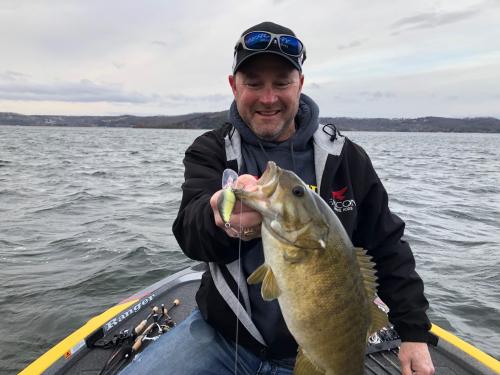 Started on a transition bank  with a lot of wind and some big surf pounding it.  I was on the sticker and Mike started with the RK.  I hardly had my butt in the seat when he said, " There she is."  Really nice 2.5 lb. LM.  Wind was really blowing down the bank, kind of had the boat sideways with me on the back and Mike on the front.  He was fishing a bit deeper with the bow in 18 to 20 feet and me in about 1/2 that and still  almost full cast from the bank.
About 3 cast later and he was winding it pretty good and also pulling it he caught a nice Jaw.  Again probably 2.5 or so.  Here is a tip, don't be afraid to throw that Spro Rock Crawler deeper than you think.  Mike was throwing it on 10 lb. Carbon and he was ticking the bottom at 12' .  We fished a 300 yard stretch of the transition until it flattened out and he caught 4 all keeps with the good one pictured above.  I wasn't really warmed up good yet so that's my excuse and I'm sticking to it.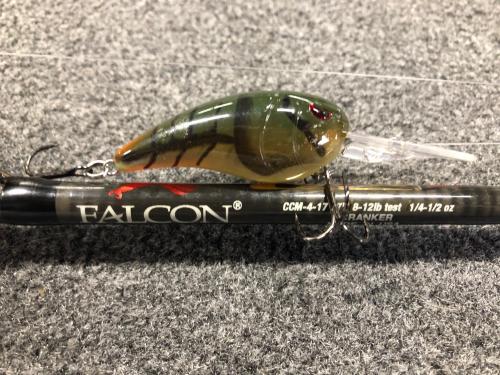 Wind was blowing a gale and he had a phone call to take so we pulled into a creek to check for some deep ones.  They were there but fussy as all get out.  While he was on the phone I caught a good keeper K swimming the Keitech Deep-Deep at 50 feet plus.  As soon as he was done he put 2 more keepers in the boat  also on a swim bait deep.  I think I'm down 6 to 1 but who's counting.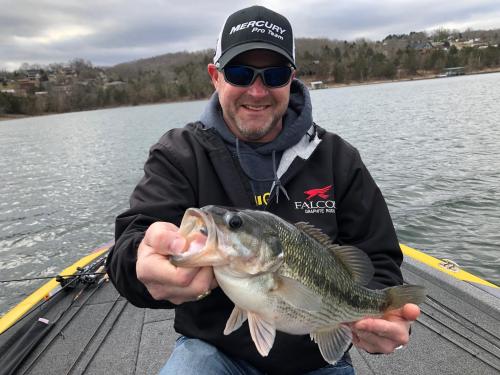 Saw some Loon's working in another creek and went in.  Here is where I was totally blown away.  Mike is a Garmin guy and we watched the Garmin Panoptix Livescope all day.  He kept saying Bill, Bill get up here and look at this.  At a spot in the creek he said," Bill get up here and look at this, there is a school of shad 50' in front of the boat at 30' with a school of bass under them at 35', I'm going to catch one right under that school from here."  And, Durn he did it,   Threw past the bait ball counted it down and swam it through the bassyou could see the fish fighting back toward the boat after he hooked it.  Simply amazing.  99% of us would have never caught the great Brown Fish that Mike pulled from the middle of the creek suspended under shad away from everything.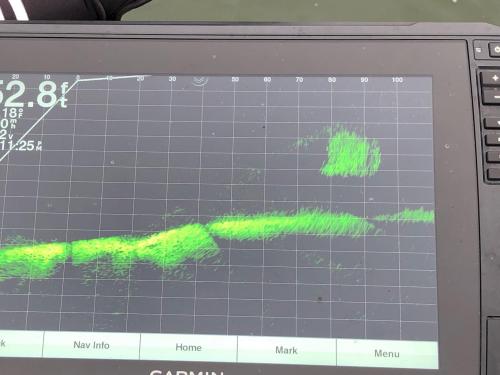 With a pretty nice wind on a transition bank going into one of the major creeks in the dam area, we started fishing the McStick pretty serious for about a hour and I even threw a Megabass a bit but no bites at all on the stick bait.  If the Table Rock Hammer cannot catch one on a stick bait its probably time to put it down.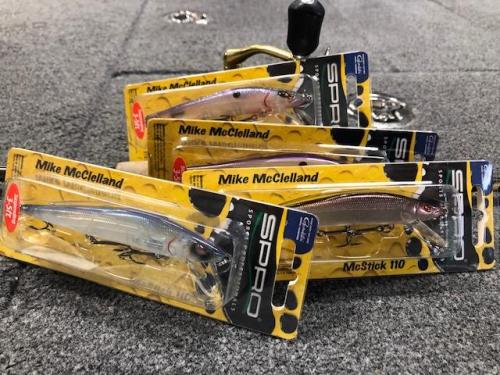 I asked if he wanted to catch some deep jig fish and he was all on board so we motored up Long Creek to the ridge I had been doing well on.  We both fished a Pig Sticker 5/8 and 3/4 GP Orange.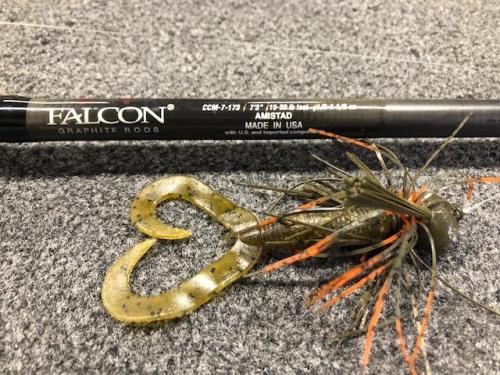 Now durn it, I'm pretty good at this and these are my fish.  As you can tell this is probably not going to be good for me.  Stinkweed put 3 keeps in the boat before I got one.  PS  Mine was bigger.  He then put 1 more keep and 1 short in so at this point I'm pretty much toast but it is sure fun watching him catch them.  Dudes we caught some jig fish out over 40'.  He is "EXTREMELY PATIENT"  He calls it Hard Headed but if he thinks he can catch them he does not move.  Same thing with the Rock Crawler he will throw it and throw it.  It works if you can make yourself do it.  The day he caught the 5 pounder he said he threw it and caught 5 in the first hour, nothing for the next 2 hours still throwing it and then 4 more in about 45 minutes with one over 5 and 1 around 4.
We stopped at another transition on the way in and he caught another really nice LM on the RK. again he was fishing it probably a bit deeper than most of us, I'm saying that crank bait fish came out of probably 15' plus.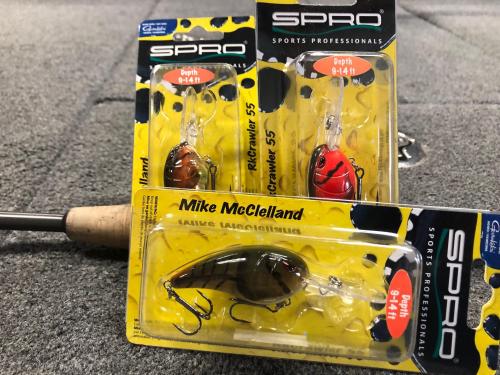 Mike fishes a Motorguide Tour Pro and it lifts and deploys with 2 fingers.  It is totally silent both turning and running.  The new MG with spot lock is not out yet but Motorguide has told him it will be something special and should be out soon.  Mike has been very loyal to Motorguide thru all the spot lock deal and also with the new Garmin so I'm excited to see what he thinks of the new motor.
Final score Mike Mcclelland 12 keepers and one short.  Bill Babler 3 keepers.  Last time I beat him 8 to 3, so he got his revenge and really gave me the best water to fish all day.  We'll get out another couple of times in the next two weeks before he has to go back on the road.  It was a fantastic and educational day with a really good buddy.
If you all have any questions about equipment or technique you would like Mike to answer just post them here and I'll see what he has to say.
Good Luck