Some days its not easy and you have to put on your thinking cap and today was one of those days.  It would have been pretty easy to say there are to many people on my locations and they are just not biting, but I bowed my neck and then got lucky.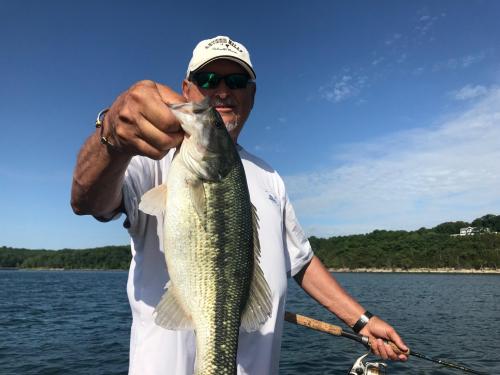 Hit the water with Charolette and Mike this morning at 5:30 and had to wait at the launch for 20 minutes at Baxter.  Lots of fishermen does not even cover what was out there today, not even close.  From Baxter to Shell Knob there was a boat setting on every gravel runnout and then some fishing up close.
Surface temps at the start were 87 and when we finished at 11:30 they were up to 88.8 on the Lowrance.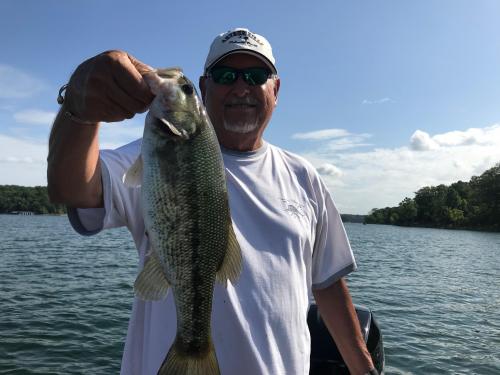 Started slow for us with a bit of a top water deal, but most were small whites and we gave up on them after catching several.  Looked like young males and the mess they were trying to make verified it.
I'm going to tell you all, I  could not get on anything I had been fishing.  Not a single location that I had fished in the last two weeks.  It was all covered up.  I'm going to say between Baxter and Play Port there were easy 50  bass boats and aluminum fishing boats out this morning.  Some of this stuff I have been on is hard to find, not just your regular point runnouts but some ridges and humps.  All covered.  I don't know everything and lots of people can read electronics and today for sure proved both deals.
At about 7:30 I decided my blood pressure was high enough and went to the deep trees.  Just took a breath and told the clients "Were not catching them anyway, lets go look in some knarley places and see what we will see."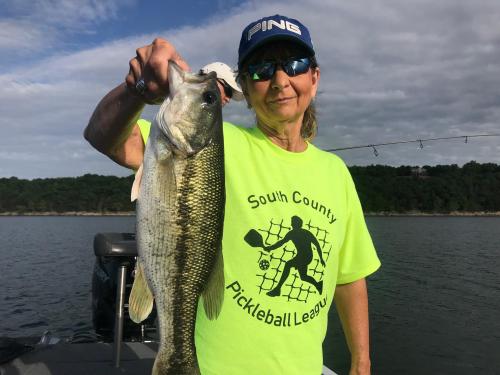 First set of deep lumber solved our problem.  As soon as I pulled in I could see them setting just above the trees at 35' suspended.  trees were in 70' to 90' way, way out off the bluffs, almost to the middle of the coves but on the edge of the White River channel.
First drop the clients got a double on the Purple Yamamoto cut tail and it was on like Donkey Kong.  Drop shot, jigging spoon or deep swimming a 3.3" Keitech in Rainbow Shad on a 1/4 oz head it did not matter, they simply snarffed it.  When you caught one a dozen would chase it to the top.  Had one fish spit up a big shad, 2 small crayfish and a purple Yamamoto worm we had lost a few minutes previous.  It was like a frenzy, as some traveling up with him gulped his stomach contents as fast as he spit them out, including the purple worm again.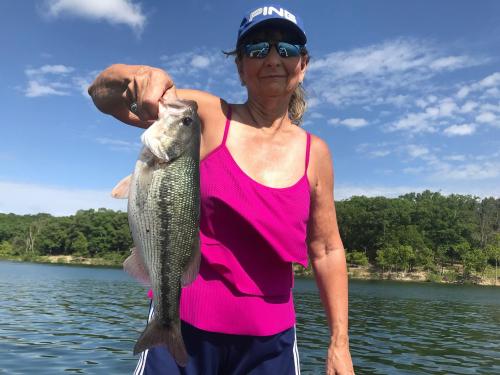 The swimbait will catch these fish, but you are risking it and the high dollar tungsten head in these trees, and its not worth it when they are on that spoon and drop shot, so I put it up and we just up and downed them.
Fished till 10 on that one set of trees and I believe at least a dozen doubles, really to much to count.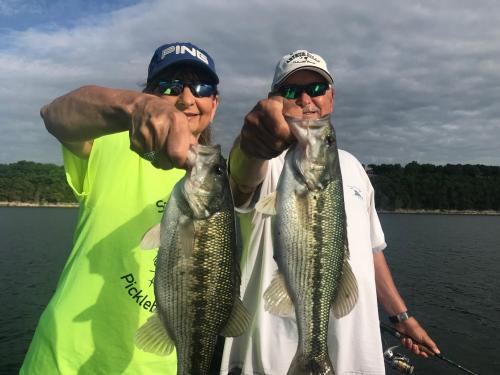 I told them lets look on another deep set of trees headed in and "Boom, There it is."  Again this set of trees in the same depth off a similar end was loaded.  They are easy to see and I should have taken a screen shot and didn't.  I will on Wednesday if I remember.
Kind of learned a lesson this morning, as I was becoming frustrated big time with the fishing traffic and pressure.  I don't own the lake and it is Summer play time, but work time for me and work time is thinking time.  I know they smelled my brain bubbling trying to figure it out.
I got really lucky and did.