This is no April Fool's Lake Taneycomo fishing report!  The trout are biting!  But it is still fishing and not catching.
It did finally happen!  All day Sunday, threadfin shad poured into Lake Taneycomo from Table Rock Lake.  It was amazing.  How and why they did, just all of a sudden, is a mystery.  They came in alive and they came in stunned.  Hundreds and thousands floated down past even our resort all day Sunday.  And, yes, the trout would hardly bite on anything we threw at them.
Our jigs and shad flies weren't any match to the real thing.  And the shad outnumbered us a thousand to one.  But it all ended Sunday evening when operators shut the spill gates at Table Rock Dam.
I had reported that I thought there were shad coming through the three turbines running at the dam.  Shad were thick on the turbine side and the spill side of Taneycomo below the dam.  It makes more sense that they came over the top, but they do come through the turbines at times.  I'll leave it a mystery because I'm just not sure.
Monday, fishing remained tough.  It seemed like our trout were full and didn't want to eat.  But there were good trout caught.  Captain Dave Welch's client caught these beautiful browns on a white jig.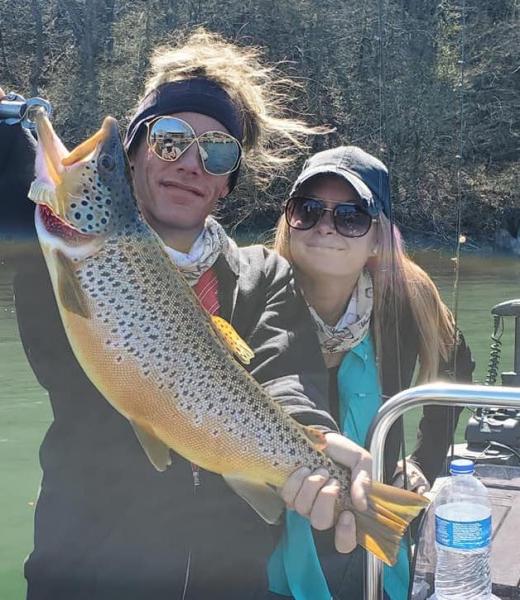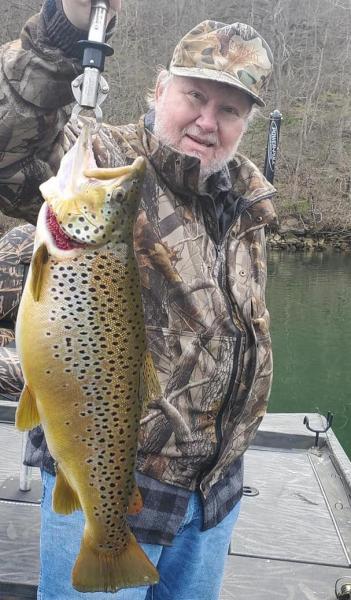 And Captain Darren Sadler's client caught this nice rainbow, again on a white jig.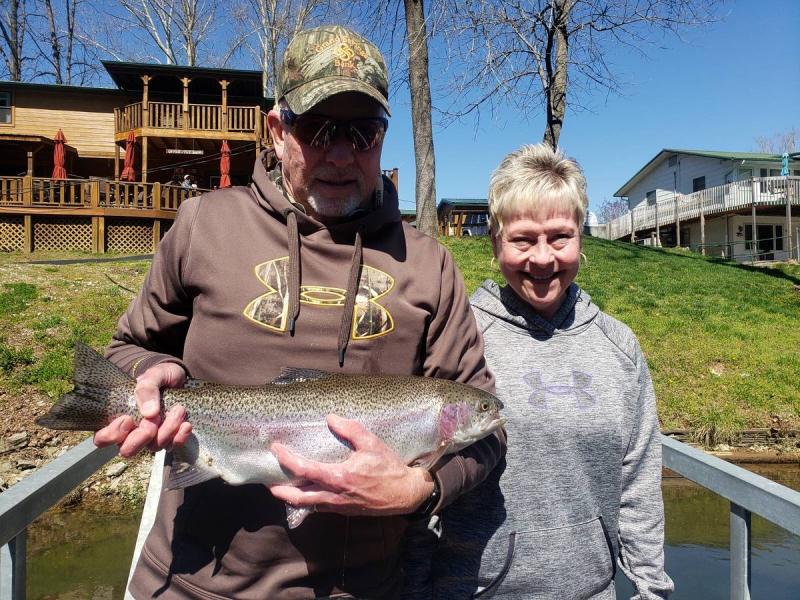 Starting Tuesday, operators dropped generation from three full units to two units.  That dropped the lake level more than four feet from its high mark, when they were running 15,000 cubic feet of water per second and reduced the flow by quite a bit.  It made fishing much easier.
And Tuesday the fish started feeding again.  And, of course, they were interested in about anything white.
I took out  writer/ TV fishing personality Ron Schara from Minneapolis Tuesday morning.  Our first drift from Lookout Island down wasn't the best.  We started with 1/8th-ounce white jigs, and the fish weren't having it.  I was a little confused because some of the guides who floated by said fishing was awesome!  So we did it again, but this time I dropped to 1/16th-ounce white jigs.
The bite was on!  The smaller jigs weren't dropping right to the bottom.  We could let them drift without having to work them very much.  I think a 1/32nd-ounce jig would have done even better, but the wind picked up a little bit so the 1/16's worked perfectly.  We stayed in the middle of the lake, too -- that drift was good to us!
And big rainbows!  Hardly nothing small was caught.  Several trout measuring 20 inches came in and were released.  And fat , , , yes, their stomachs were bulging but their whole physiques were impressive.  And, of course, their colors were amazing.
As I said, we saw tons of shad go by our resort, so we know fish saw and ate shad probably all the way to Rockaway Beach.  That means white should be a popular color up and down the lake.
The report on creeks -- before the shad came over, the trout in our creeks had been hammered to the point of extinction.  The ones that were left had become "educated" and couldn't be caught.  But reports came in on Tuesday that giant schools of threadfin shad were moving in and out of the creeks and trout, as well as other species of fish, were chasing them.  This could become very interesting in the days to come!