We drove over to the creeks last evening to check out the reports we've been hearing about.  "Swan is loaded with fish.  Beaver is on fire - whites and crappie".  We didn't find much.
First bad sign was... no cars.  It would be the only one over there and catching fish but that's not how it works.  If there's cars and trucks in the park, on the road, the fish are biting, right?
Both creeks are clear - great looking water.  Didn't take any temps.
We fished in the park at Swan - Duane caught a couple of stinkin' bass.  We drove to Beaver and drove through the field past the tin whistles - I think Duane caught another s-bass.  Then we drove back to Powersite and fished from the bank below the dam.  I caught a stinkin' trout.
Here's a pic of Beaver and where the water is at this lake level.  You may be able to drive to the creek up from the whistle road across the field - the creek level is real close to going into the field so it may be tough.  But as the lake keep dropping, the creek should be more accessible.  Duane thought the first riffle would be at the bluff down from the 160 bridge.
Looking down the road.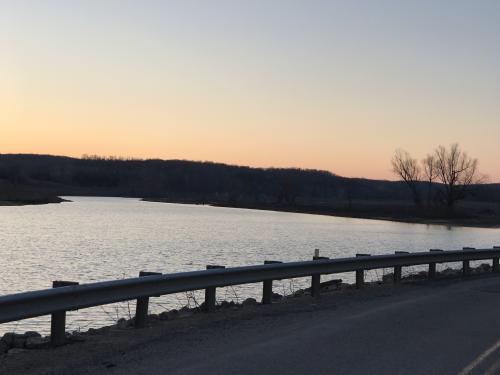 Looking up the creek from the road.