White River Outfitters current Mid-Table Rock Lake fishing report Sunday, May 26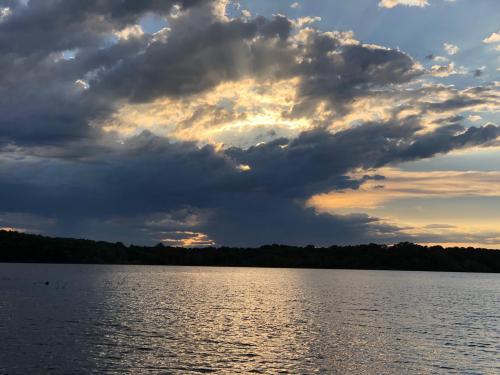 6 AM On the Rock Point 19
Had one of the best days of the year today, not only because the fishing was simply unreal, but my client Jeff was a long time Table Rock Lake, ie Ozarks Lake's fishermen.  He had great stories from the late 60's and 70's.  Jeff had fished Table Rock, Bull Shoals and Taney when he was in his early teens with Rex Grady, staying at Lake Shore Resort.  He had also fished the Rock with the Fletcher's out of Devils Dive and floated the Kings River many times out of DD Resort.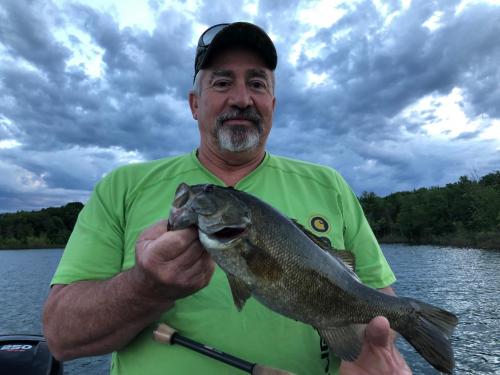 Nice dark Table Rock Jaw on a  Red Fin
Launched this morning in what I thought was perfect timing and was wrong.  We pulled away from the H hwy. dock at 5:15.  I t was going to fish the swim beach at Baxter but there were 2 boats on it.  Next was the point going out of the Indian's on the left.  Boat on it.  Went to the buoy point up the White across from Red Barn,  boat on it.  Next was Red Barn 3 boats on it.  Next was 19, boat on it.  Next the Old Road Bed point.  Success.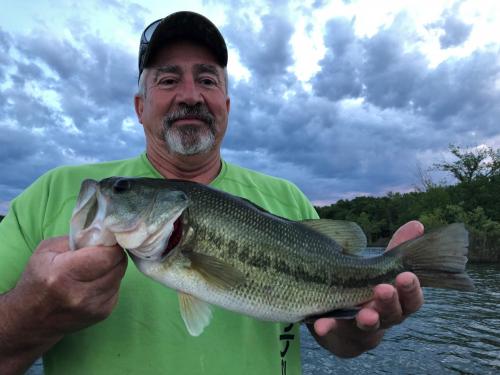 LM like topwater too
Fin bite was savage with the boat in 25' throwing across the point.  We caught 9 here, all keepers and they just crushed it, to the point of being scary.  Guy on 19 had vacated so I bogged over there and we caught 6 on it.  All short but again they hammered it.  Zoomed back to the road bed and bang a nice jaw on the fin and then  switched to the Keitech.  3.3 with a 1/4 oz. head in either Rainbow Shad or Pro Blue.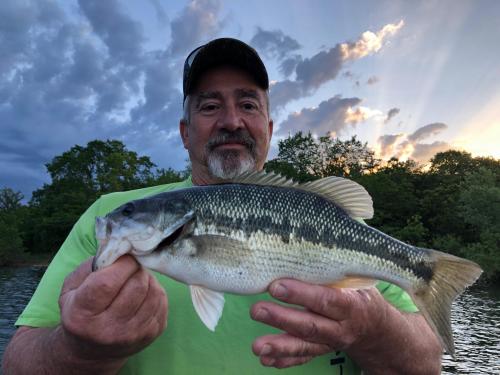 I'll be durned fat Kentucky's eat Red Fins also.
It really never slowed down.  I jumped a bit and we threw the fin on each new location, but the Keitech never stopped getting bit.  Most locations we would catch at least 6 with a combination of just about every fish that swims in the lake.  Fished 5 gravel runnouts this morning between point 19 and point 16 with no bad stops.   Hitting the Road Bed twice early looking for fin fish.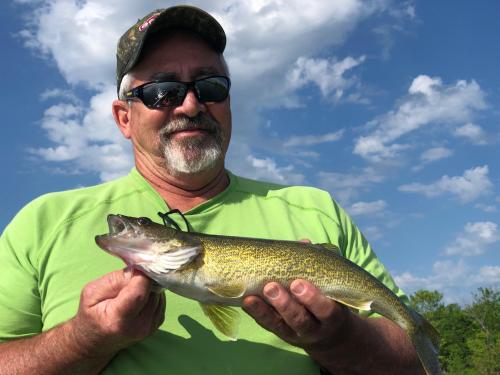 Walleye prefer swimbaits to Red Fins
Boat today was most often in 25' but did hit 35' several times.  Most fish in 12 to 20 ft.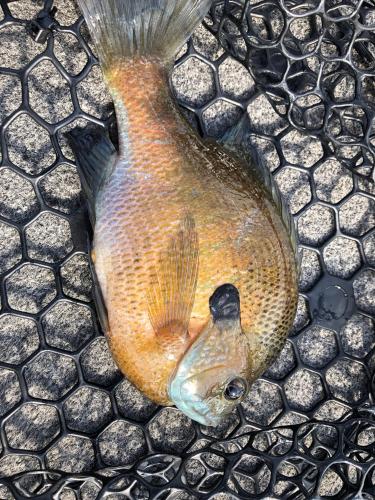 Fat 10 inch bluegill on a 3.3 Keitech.  We caught several they seemed to be about 15' deep
Total of 17 topwater fish as we caught a nice K on the last cast on a fin.  Probably 25 down fish on the swimbait and did not see any drop shot fish what so ever.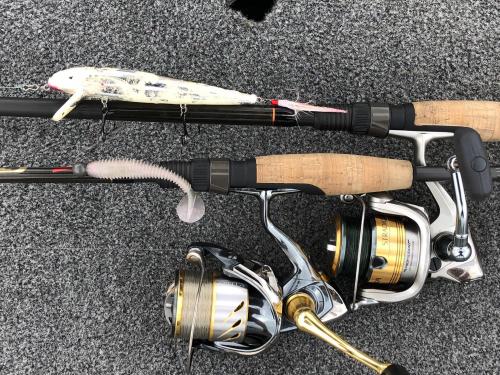 Baits were pretty simple for us today.  We used two.  Surface temps at 74-76 degree water is clearing fast.