After almost a full of day of rain today, I'm expecting the lakes above Lake Taneycomo to head upwards, again.  Here's a quick run down:
Beaver Lake rose to 1127.6 feet after rains last week.  They're aren't releasing much water.  It's flood pool level is 1130 feet so it doesn't have far to go to hit that mark.  Once it does, they will surely start releasing water into Table Rock.
Table Rock Lake dropped to 915.9 feet after rising to 917.7 feet, after rains last week.  But this rain will make it's level jump.  We might see 918 feet this time.  But there's more rain in the forecast.  If Table Rock hits 920 feet, they may open spill gates and increase flows from 13,000 to 20,000 cubic feet of water per second.
Bull Shoals continues to rise.  They aren't releasing much water.  It's level is at 670 feet, roughly 10 feet up in the last 2 weeks.
We'll be seeing 4 full units running now for at least a week, and depending on future rains, even longer.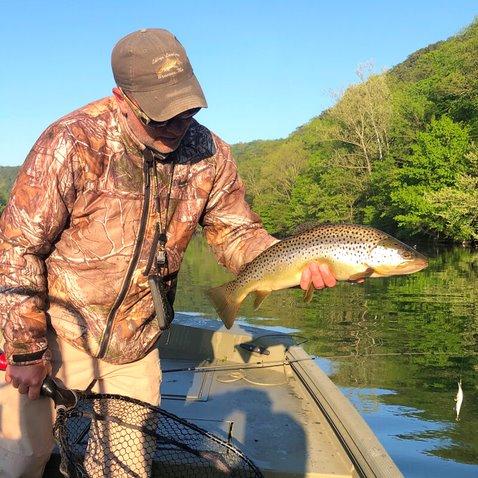 Drifting is the key to fishing on Lake Taneycomo.  Drifting scuds on the bottom is still the number one way to catch trout.  Scuds are flies that imitate freshwater shrimp that live in the gravel and rocks in our lake.  They are high in protein and are one of the main sources of food for our trout.  Sculpins are the second source, which are small, dark fish that also live in the rocks on the bottom.
The best area for drifting scuds has been from Lookout Island in the Trophy Area all the way down to Trout Hollow Resort.  Try to keep your boat from the center of the lake to the shallow side which is always opposite the bluff bank.  Make sure you're using plenty of weight to keep your rig in contact with the bottom.  You won't get bit unless you're on the bottom.
Scud color has been different this week.  We did well on tan early last week but light gray later.  We're using dubbing with some flash in it too, especially if it's sunny out.  Most of our guides are using size 12 and 14 scuds.
Numbers have been down a bit but the size of trout is amazing.  We have logged 65 trout in April measuring 20 inches or more caught and released.  That's more than the last 3 Aprils COMBINED.
We also started a new thing within the catch and release program.  It recognizes trout that are caught over a certain size.  Along with the distinction of being recognized as catching and releasing a true trophy trout, if your trophy is over 24 inches, you're inducted into the 24-inch trophy club.  There's also the 27-inch club and the 30-inch "Hall of Fame" club.  Anglers get a special decal, patch and certificate for their achievement.  Patches, I believe, are on order.
You can see April's anglers and their catch by going to our website.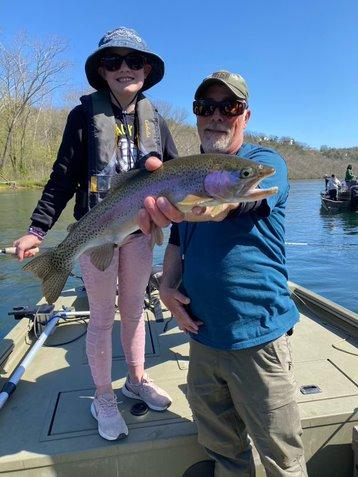 Night crawlers and minnows are working good, drifting them on the bottom from Fall Creek down to Cooper Creek.  Again, stay towards the middle of the lake and not on the bluff side.  You'll lose fewer hooks and weights if you stay off the bank and away from the downed trees on the bottom.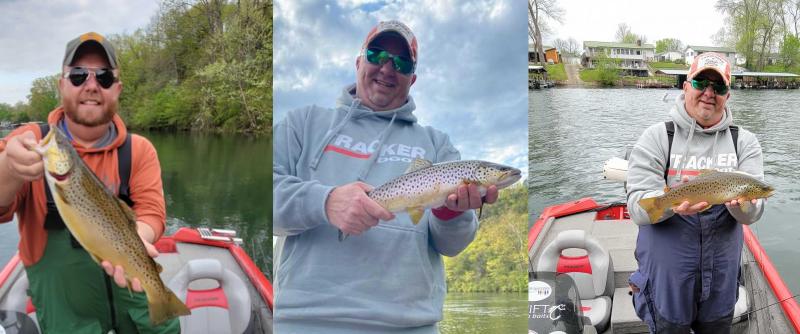 Jerk baits are catching some nice brown trout.  Seasoned angler, Travis Swift from Kansas, fished last week and exclusively threw jerk baits and caught a lot of browns.  Here is his report on OzarkAngler's Forum.
Jerk baits are hard stick baits that are worked down in the water by jerking the rod downward fast.  The baits go down 5 to 12 feet deep depending on the type of bait you're using.  It's best that the bait is suspending, in another words, the bait won't sink or float up when and if you stop working it.  Some people do not stop working the bait while others will stop the bait several times to lure a strike.
Duane Doty custom paints jerk baits exclusively for fishing Lake Taneycomo.  You can only find his baits at Lilleys' Landing.  Here's the website link to the online store that offers them.
Other baits you can buy are Rapala, Smithwick Rogues, RC Sticks by Lucky Craft, MegaBass Plus, as well as others.  With the size of these baits, you'll need heavier equipment to throw and work them.  Using bait cast reels is not out of the question.  But most use spinning reels with a minimum line size of 6 pound test.  Just pretend you're fishing for bass because the baits are the same size and most of the trout you'll catch will be on the bigger size.
Images Credit:  Duane Doty and Travis Swift.