White River Outfitters Guide Service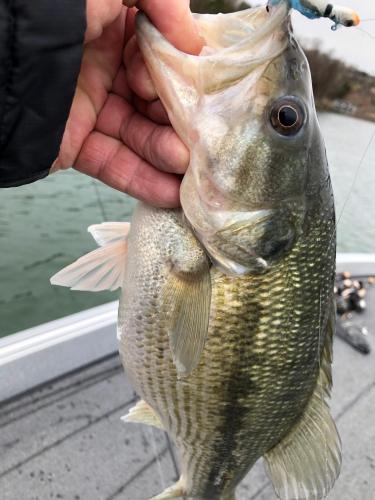 Let's face it, there are lots of ways to catch fish on Table Rock that don't involve getting snarled up or having a Master Fly Caster's certification.  In Springtime is there a better way to catch big fish other than fishing a barbed wire contraption that's named after a Southern state.  Probably not, with one exception, the Float n Fly.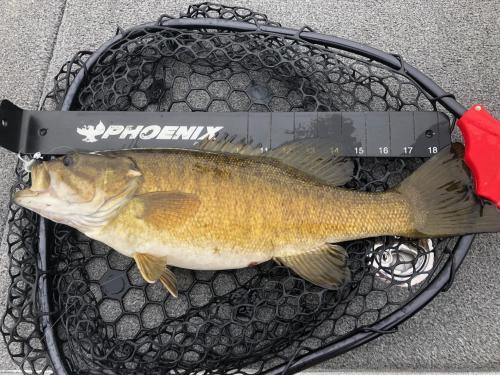 The Table Rock Lake,  Float-n-Fly history goes back to a guide by the name of Bill Richey.  Bill went to Dale Hollow Lake one early Spring and they fished the fly and had really good success.  A light switch went on and he thought that will work on the Rock big time.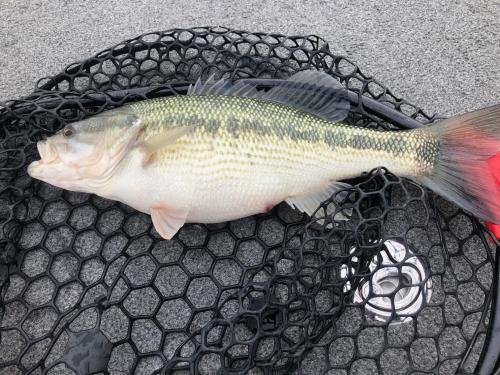 Bill introduced both Bill Beck and myself the the technique and we kind of took off with it winning multiple tournaments and guiding clients to the biggest bass of their life with it.  I caught my personal best Table Rock Bass on the fly, at 10.1 pound.  Bill caught 2 over the 10 pound mark and also had a 12 year old girl, catch a 10.3 on it.  My biggest on a guide trip was a whopping 8.3 pound a client caught about 6 yrs. ago.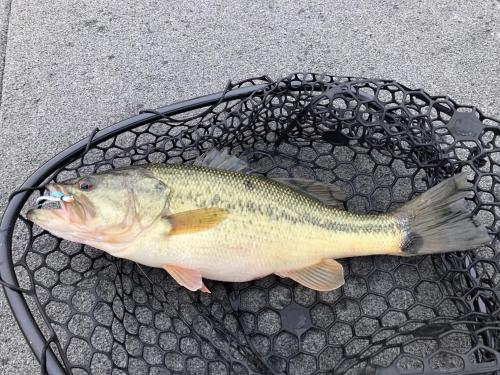 The Float n Fly works between late January and May if lake conditions are correct.  We have not had a good year for it for the last 4 or 5 yrs.  Good year is clear water, pool between 914 and 917 and if possible small shad die off.  This is the perfect year as they are just inhaling it.  I hit 3 different bluff ends today after guys fished A-rigs on them and caught keepers right behind them, no problem.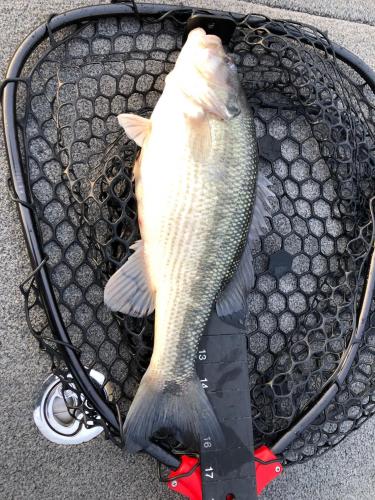 Fishing a Float n Fly is a bit like a Ned in that it is pretty slow fished, but a better analogy is you fish it as if your were flipping a jig in a bush.  Cast it out and let the fly settle, bounce it or jig it several times and then rinse and repeat.
Both Bill and I bought specialized equipment for the technique.  We both bought St. Croix rods that were 9' as they are tournament legal in most derby's.  Some do not have length specifications and you may use any length rod you wish.  i prefer a 10' to 12' rod.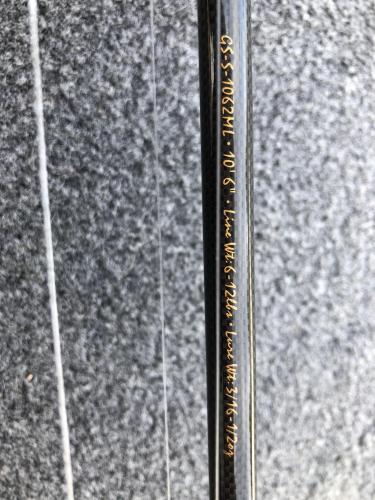 Any good large arbor spinning reel, at least 3500 series works great.  Spool the reel with the 10 lb. braid, you select brand, it don't matter.  I like white or hivis yellow.  Just like a fly line you can see it and tell if you have to much slack.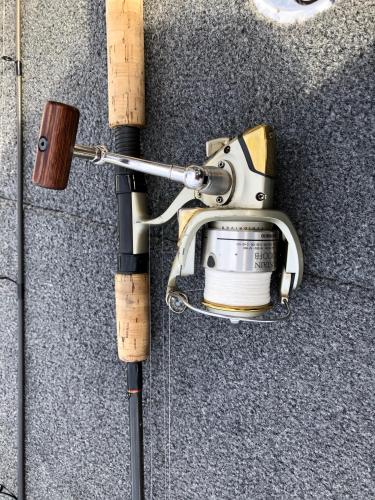 You need a Mr. Crappie high Vis float and a 3 way swivel.  I use a Spro 3 way.  First you attach your swivel to the float then you put your braid on one arm of the 3 way.  I use a palamar and pull it super tight.  Then for your leader you want to use carbon as it sinks.  Bill Beck used 4lb. but I think 4, 6, or on the outside 8 works OK.  8 is easier to cast.  At this point attach the carbon with a improved clinch with at least 6 wraps.  I'm using 14' of depth right now as these fish are suspended deep, as deep as 30' and they will still come up for it.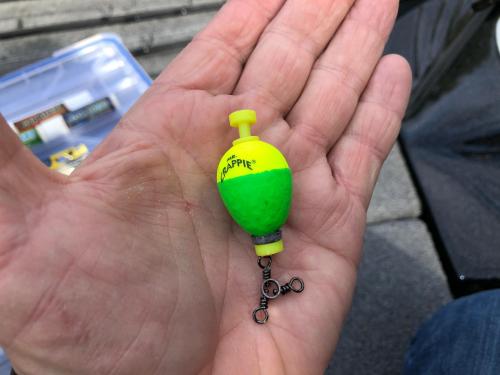 There are a ton of companies making Float n Fly jigs/flies.  The best by far not even close is the Spro Phat Fly in 1/16th. in blue or shad.  My favorite is the blue. It has a super sticky Gamakatsu size 1 nickle hook that you need to be careful of.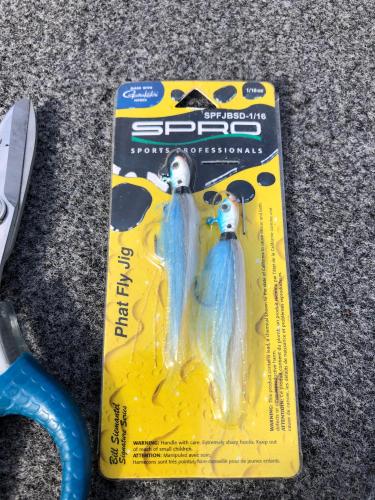 There are a couple of things you now need to do.  First you need to trim the fly back a bit.  Yes its looks like a waving tail would be better but its not.  Trim the fly.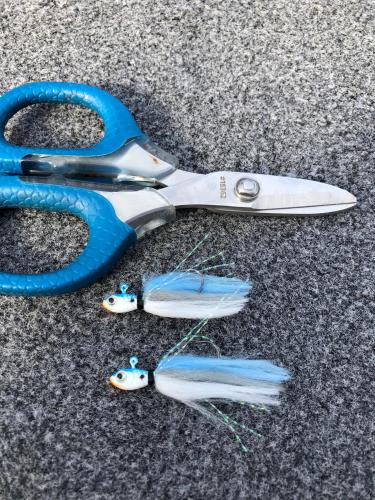 Attach the fly to your carbon leader with a 6 twist improved clinch and put the knot at the rear of the eye so the fly rides level, cinch the knot tight and it will stay at the back till you get bit.  There you have the basic FF rig.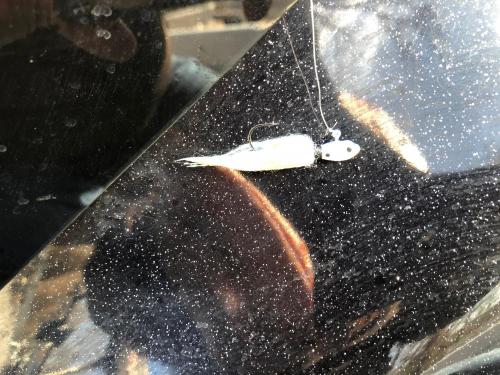 Correct posture for the fly.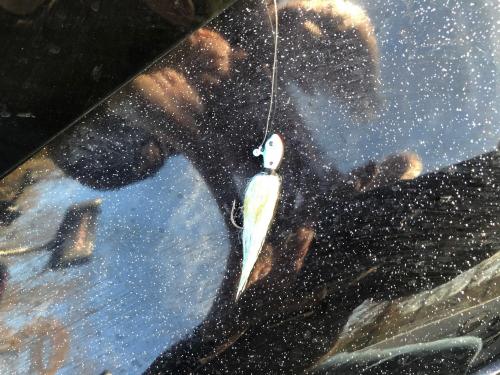 Incorrect posture for the fly.
After you have it attached use gulp or some type of attractant on the fly, you can pretty much just sop up the tail with it and that great.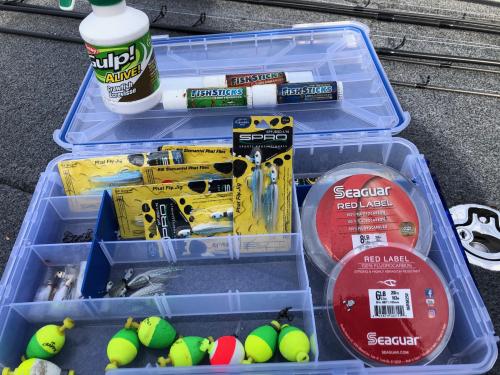 Casting and retrieving and fishing the rig needs some explaining.  With 14' of leader below the float it takes a while to get proficient.  First this rig is light, so you are casting or lobbing the float, the fly and line just follow, somewhat like a fly cast.  Pull out at least 3' of braid to the float, dangling your leader and fly in the water as far as you can reach out with a 10' to 12' rod.  Length really Really helps. Back cast the float and watch your back cast, when your fly hits the water, lob it forward at height and it will shoot right out there after a little practice.  If your a fly fisherman no problem, Phil lilley was casting it better than me in about 5 minutes.  The trick is watching your back cast making sure the fly is completely behind you prior to coming forward.  Easy Peasy.
When the fly hits the water it takes a few seconds for that to sink.  Wait about a minute and then jig it several times and repeat.  If nothing raise your rod tip as high as you can reach and them smoke it in as fast as you can turn the reel handle.  Reason,  You cannot slowly reel 14' of 4 or 6 pound test leader thru pole timber, cannot be done.   Reel in fast and the fly will come to the surface following the float and rethrow to a new location.
Strikes can be very easy or the float is just gone.  Sometimes it starts walking,  just like crappie under a float.  When setting the hook set to 12 o'clock, this is a lift and not a snap or you will break that light line keep your rod very steady in that straight up attitude, allowing the rod to absorb the shock of the fish.  Keep a big bend and if you need to use the trolling motor to pull the fish out of the pole timber to deep water, making sure previous to fishing that your drag is very loose.  The better the reel the better the drag.
Float n fly does not work well in wind or choppy water, it is best as a smooth water technique.  It's hard to keep slack out of your line and for some reason the fish don't like the constant action of the chop.  Go figure
Location, most any bluff end or runnout pole timbered fast drop point  I usually make a dozen cast per location and if nada, hit the road.  At times they will get on the bluff walls in the small cuts and pole timbered pockets, where ever fish stage Pre or Post spawn.
Table Rock, Bull Shoals, Beaver or any of the White River Lakes it will catch them between now and May.
Watch your electronics, if I see suspended fish in the 10 to 30 foot range off those points they will eat it.  Don't be intimidated by it and you will catch your biggest bass, maybe of a lifetime right here on the Rock
Good luck